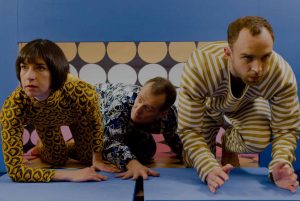 english:
a choreographic movie by Gilles Jobin
music by Franz Treichler
set by Sylvie Fleury
costumes by Jean-Paul Lespagnard
Director of photography: Patrick Tresch
Dancers: Susana Panadés Diaz, Gilles Jobin, Martin Roehrich
The movie WOMB will be presented 4 times during the "Days of Contemporary Dance" and the Antigel Festival on Friday February 3rd at
Cine 17
Rue de la Corraterie 17
1204 Genève
11:15 / 18:15 / 19:00 / 19:45
Franz Treichler's first composition for a 5.1 surround system.
Mixed by Spocksone at the "Cyber Kitchen Sound Design Enterprise" studios
https://antigel.ch/site/fr/programme#!/774-gillesjobin
français:
un film chorégraphique en stéréoscopie de Gilles Jobin
Musique Franz Treichler
Décor Sylvie Fleury
Costumes Jean-Paul Lespagnard
Directeur de la photographie Patrick Tresch
Danse Susana Panadés Diaz, Gilles Jobin, Martin Roehrich
Trois créateurs genevois sont unis pour la création de WOMB. Franz Treichler (The Young Gods) compose la musique, Sylvie Fleury imagine le décor, Gilles Jobin signe la réalisation et la chorégraphie. Avec le styliste bruxellois Jean-Paul Lespagnard ils forment un quatuor flamboyant pour la création d'un objet cinématographique en relief inédit.
Le film sera projeté 4 fois durant les "journées de danse contemporaine" et le festival Antigel, ce vendredi 3 février:
11:15 / 18:15 / 19:00 / 19:45
Cine 17
Rue de la Corraterie 17
1204 Genève