"The Young Gods / Documents" 1985–2015 is now available in all Europe
Sortie dans toute l'Europe du livre "The Young Gods / Documents 1985–2015"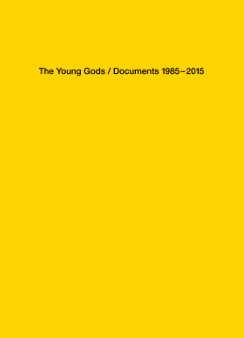 The Young Gods / Documents 1985–2015
Formed over thirty years ago, The Young Gods remain, after a few line-up changes, eleven studio albums, thousands of concerts, industry accolades and a certain degree of public recognition, one of the most remarkable independent rock offerings to come out of Switzerland. This enviable reputation is, of course, down to the group's undeniable talent, which was clear from the very beginning: the creation of a sound derived from post-punk, industrial and electronic music using a vast array of source materials (the history of Western recorded music, both ancient and contemporary, classical and popular), all mashed up and regurgitated by the sampler as a perfect fit for Franz Treichler's unique vocals. This musicality, reinforced by a bold approach to technology, has so far proved extremely fruitful: regularly generating new cabaret, ambient, neo-psychedelic, blues and acoustic–flavoured experiments. The Young Gods energised late-twentieth century rock and have been hailed as an influence by some of the biggest names in pop. But this success was also born of an intense determination to bring their art to their listener-spectators, which promptly propelled the band on the road and on some memorable adventures, without, however, their experimental inclinations or independence being compromised.
But this book is not just the celebration of a band. The thousands of photographs, press cuttings and diverse ephemera that it comprises – selected from band members' personal items or gathered from across the globe – tell a story that is, at times, clearly extraordinary, but also trivial, governed by the record–promotion–tour cycle: the rehearsals, the studios, the concerts, the interviews. And, of course, the friendships and the incidental tourism. Such an abundance of documents could have led to a case study approach: the era-defining rock band, frozen in time by the photographer's lens (band members, big names…) and the words of music critics, be they Swiss or from further afield, inspired or lazy. The selection and chronological presentation of these archival materials allow breaks and contrasting viewpoints to emerge, thus avoiding any deference and ensuring a healthy amount of derision. They also bring into focus the development of the band's image, through evolving photographic styles and vocabulary, as the times and fashions change.
The book contains 688 pages of images and other iconographic material that are indexed at the back and includes a long interview with Franz Treichler in both French and English.
The book contains 688 pages of iconography, and a long interview with Franz Treichler, both in french and english.
Editorial manager and iconography research: Vincent de Roguin
Concep and graphic realization: David Mamie, Nicola Todeschini and Vincent de Roguin
Size : 20,5 × 28 cm / Pages : 800 / Images : more than 2000
Price: 52 € / 58 CHF
Formé il y a plus de trois décennies, The Young Gods reste, après quelques changements de personnel, onze albums studio, des milliers de concerts, les accolades du «milieu» et l'adhésion du public, l'une des propositions les plus remarquables que la Suisse ait connu en matière de rock indépendant. Une telle réputation, c'est bien sûr à son indéniable talent que le groupe la doit, éclatant dès ses débuts; l'édi cation d'un univers sonore d'ascendance post-punk, industrielle et électronique, à partir de matériaux hétérogènes (l'histoire de la musique occidentale enregistrée, ancienne ou contemporaine, savante ou populaire) hachés et régurgités par le sampler, et parfait par la voix unique de Franz Treichler. Cette sensibilité musicale attisée par une approche audacieuse de la technologie se révèlera éminemment féconde, jusqu'à aujourd'hui, périodiquement mobilisée pour de nouvelles expériences, aux accents cabaret, néo-psychédéliques, ambient, blues, acoustiques, etc. L'in uence des Young Gods innervera le rock de cette n de XXe siècle, revendiquée réguliè- rement jusque par les plus grands noms de la pop internationale. Mais ce succès est aussi le fruit d'une intense détermination, celle de se donner les moyens de porter son art à ses auditeurs- spectateurs, propulsant rapidement le groupe sur la route et au-devant d'aventures mémorables, sans toutefois renoncer à ses velléités expérimentales et son indépendance.
La célébration n'est pourtant pas l'objectif de ce livre. Les milliers de photographies, coupures de presse et ephemera diverses qui le composent – tirées du fonds personnel du groupe ou glanées aux quatre coins du globe – racontent une réalité certes parfois exceptionnelle, mais aussi triviale, rythmée par le cycle disque- promotion-tournée. Les répétitions, le studio, les concerts, les interviews. Et puis les amitiés, les rencontres, le tourisme circons- tanciel, évidemment. L'abondance de documents pourrait tendre à l'étude de cas : le groupe de rock acteur de son temps, gé dans l'œil des photographes, membres du groupe ou reconnus, et dans les mots des critiques, locaux ou lointains, inspirés ou paresseux. Le choix et la présentation chronologique des archives favorisent cependant les ruptures et les perspectives contrastées, sans complaisance ou sans même se refuser quelques pointes de dérision. Ils mettent aussi en relief l'élaboration de l'image d'un groupe, à travers l'évolution des styles photographiques ou du lexique, au gré des époques et des modes.
Le livre compte 688 pages d'iconographie indexée en n de volume, ainsi qu'un long entretien bilingue français-anglais avec Franz Treichler.
Direction éditoriale, recherche iconographique et rédaction : Vincent de Roguin
Conception et réalisation graphique: David Mamie, Nicola Todeschini
et Vincent de Roguin
Détails techniques : Format : 20,5 × 28 cm Nombre de pages : 800 Plus de 2000 images
Prix: 52 € / 58 CHF